Sophos develops products for communication endpoint, encryption, network security, email security, mobile security, and unified threat management.
Ransomware
System developed to protect against ransomware.
Cloud-Based Management with Sophos Central7
Sophos Endpoint Protection combines proven technologies such as malicious traffic detection with real-time threat intelligence from SophosLabs to help you prevent, detect and fix threats with ease.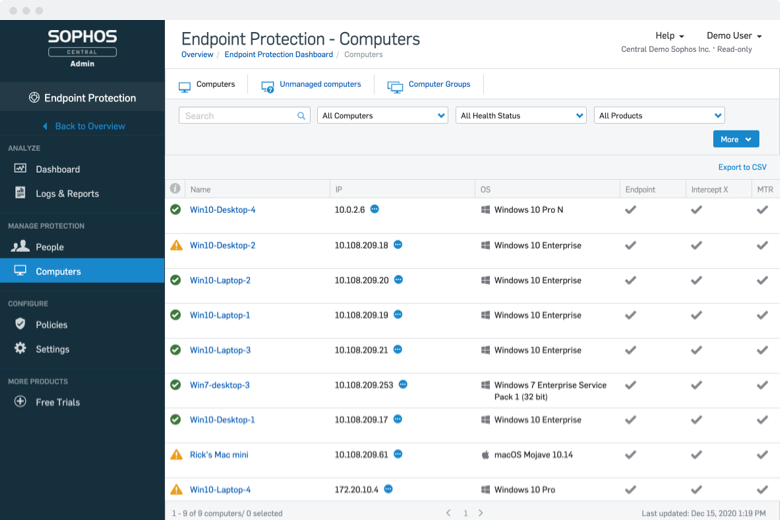 Sophos XG Firewall takes an innovative approach in all aspects of network security. From firewall management to reporting information and how it integrates with other security systems, it offers you unprecedented simplicity, security intuition and an advanced level of threat security.
Stop ransomware, spam and phishing attacks and protect sensitive data with email encryption and data loss prevention.
Sophos Endpoint Protection
Network security is an extremely important issue. Professional support is required for network security, which is one of the sine qua non for companies. All your network systems at this point are safe with Sophos Endpoint Protection.
You can also take advantage of advanced threat protection with Sophos Endpoint Protection, which provides corporate security on firewalls. This software is also recommended for the wireless network you provide in your company to be completely secure and not to be exposed to spyware. In addition, you can choose this software system for your e-mails to be completely secure.
DO YOU NEED MORE INFORMATION?
If you would like to learn more about our products and solutions, please send an e-mail to [email protected] or fill out the form!
Our team will be in contact shortly.